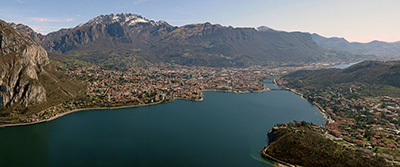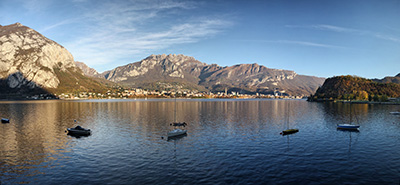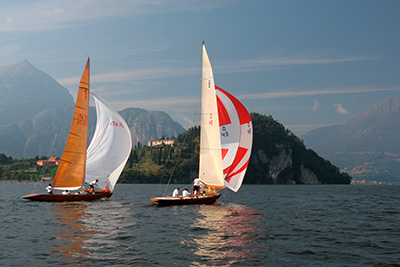 The position of Lake Como, situated in a basin, surrounded by mountains, divided by numerous valleys that reach the shore, provides a situation where there are many air currents and winds, therefore the lake conditions are easily subjected to sudden changes.

Tivano is a wind that regularly blows from north east all year round. In the early hours of the morning, from 6am til 10am, the wind speed reaches around 5 metres per second. The wind arrives from the Valtellina and when absent, it is an indication of bad weather in arrival.

The Lecco part of Lake Como is the branch that is found south east of Como, The Gulf of Lecco, where the river Adda flows at Pescarenico, the town where the historically famous book Renzo and Lucia, written by Alessandro Manzoni that has been studied by many generations at school.

The landscape surrounding the lake comprises of Mount Resegone and it is edged by the Prealps, Grigna, Grignone, Mount Barro, Corni di Canzo, with walks and walls of mountaineering famous all over the world, it's a stonesthrow from Valsassina.

The towns around the Gulf of Lecco are Malgrate, Valmadrera, Pescarenico and nearby towns are Abbadia Lariana, Mandello del Lario and Oliveto Lario. In the Gulf of Lecco and precisely in the bay of Parè is the zone where the Tivano reaches it's maximum strength.

For many months throughout the year windsurfers in the north of Italy meet at the crack of dawn or the evening before in their cars or campers, ready for a breathtaking day in the Gulf of Lecco, enjoying one of the few famous spots, after Colico, at Lake Como, and Torbole at Lake Garda.

The Bay of Parè is a picturesque bay situated in the Gulf of Lecco, a meeting point for earlybird windsurfers, kitesurfers, sailors, wakeboarders, waterskiers, canoeists and divers.

In the last few years there has been a major development, aimed at tourism, with the opening of a bar, an icecream parlour, a pizzeria and the presence of three hotels, and two restaurants. A sailing school, kitesurf and waterski school, a marina, and a tourist port. There is also a large lawn on the side of the lake for swimmers and tourists that catch the sun.